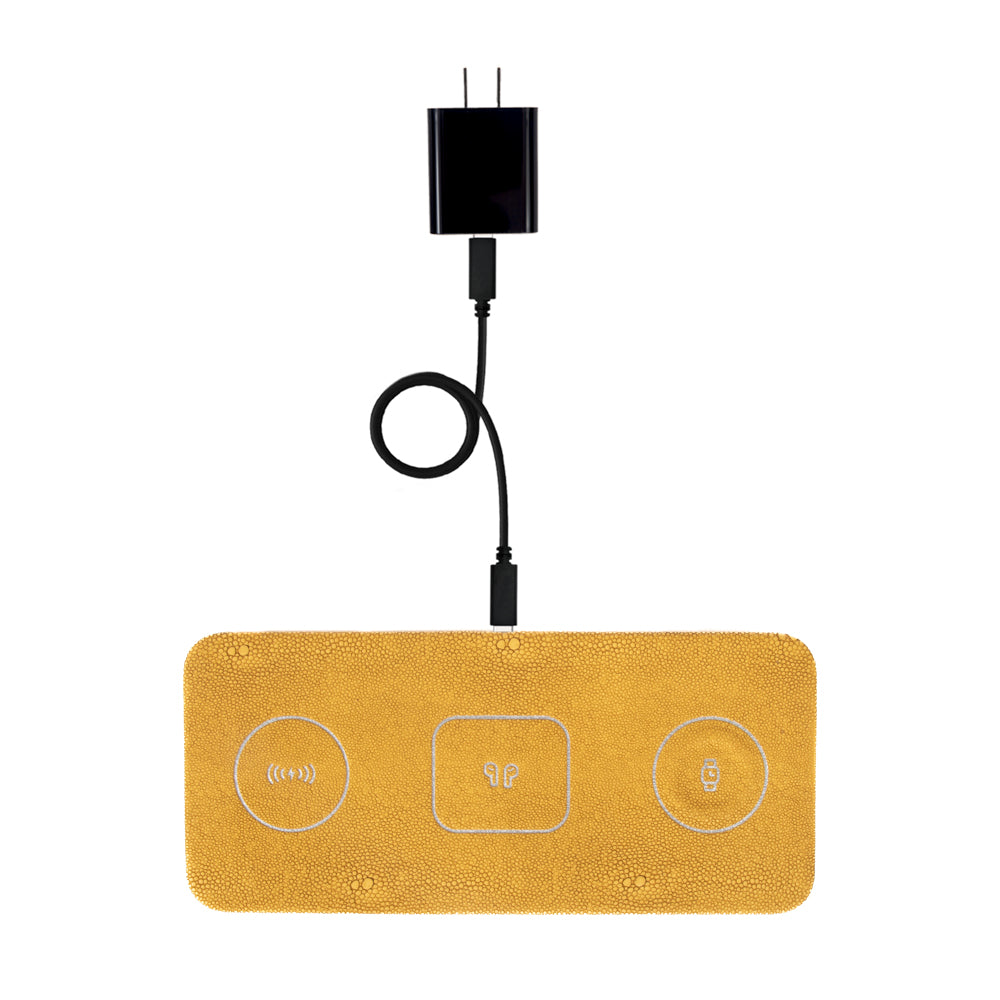 Ace 3 in 1 Portable Wireless Fast Charging Pad
ACE 3 in 1 #Upgraded Qi-Certified Wireless 15W Fast Charger with Case, Travel Wireless Pad, Multiple Devices, Compatible with iPhone and Samsung, Compatible iPhone 14 Pro, 14, 13, 12, 11, Pro, XS, XR,8 / AirPods 3,2, Pro / Apple Watch Ultra,8,7,6,5,4,3, 2 / Compatible with Samsung and Android phone and headphones (Adapter and cable Included)

IMPORTANT UPDATE: Since Feb 2023, we've enhanced the electronic components and resolved previous issues for a seamless experience.
3 IN 1 WIRELESS CHARGING STATION - Multi-device wireless charging for your phone, watch, and headphones. Tired of cords? Never worry about multiple cables with this sleek charging pad in a beautiful Vegan Leather cover. Stay charged while a home, office, or traveling.
Qi-CERTIFIED FOR SAFE CHARGING:

 The wireless charging station has Qi-Certified technology, with the built-in highly efficient components which protect your devices from overheating, overcharging and overvoltage.  

15W WIRELESS FAST CHARGING MULTI DEVICE - Fast charging pad for the phone (15W), watch (2W) and headphones (5W)
PORTABLE TRAVEL DESIGN - Includes Vegan Leather Multi-Device Charging Pad, Vegan Leather Travel Pouch, USB-C 20W (Fast) PD Wall Adapter, and 1M / 39" USB-C to USB-C Charging Cable. Choose from a variety of beautiful vegan stingray colors: Yellow, Tan, White, Blue, Charcoal, Teal, Fuchsia, and Black
DEVICE COMPATIBILITY - Phones: iPhone 8/iPhone 8plus/iPhone X/iPhone XR/iPhone XS/iPhone XS MAX/iPhone 11/iPhone 12/iPhone 12 Pro/iPhone 12 Pro max/iPhone 13/iPhone 13 Pro/iPhone 13 Pro max/iPhone 14/iPhone 14 Pro/Google Pixel 3/Google Pixel 3 XL/Google Pixel 4/Google Pixel 4 XL/Samsung S10/Samsung S10+/Samsung S10e/Samsung S10 5G/Samsung S20/Samsung S20+/Samsung S20 UItra/Samsung S20 FE/Samsung S21/Samsung S21+/Samsung S21 UItra/Samsung S21 FE/Samsung S22/Samsung S22+/Samsung S22 UItra/Samsung Note 10+/Samsung Note 20/Samsung Note 20 UItra/Samsung Fold 2.  Headphones: Apple AirPods 2nd Generation Wireless Charging Version, Apple AirPods 3rd Generation, Apple AirPods PRO; Galaxy Buds, Buds 2, Buds Live, Buds Pro. Watch: Apple 2, 3, 4, 5, 6, 7, 8, and Ultra series watches.
User Guide Charging Solutions
1. Make sure your device is properly aligned on the charging pad over its corresponding symbol.
2. Update the device to the latest system.
3. Make sure your device supports wireless charging.
4. Make sure to use the original charging cable and adapter.
5. Remove thick device covers on your phone. Some phone case covers are not wireless charging compatible and will need to be removed.
6. If the watch has a bulky strap, remove it, and make sure the watch is properly aligned on the "watch" symbol on the charging pad.  If the watch is not properly placed, it will slow the charging process as it may not be receiving the full amount of current and will take more time to charge fully.  **NOTE: Apple Watches are not fast charging devices and will take longer to charge**
7. When the earphones are exhausted and cannot be charged, please take out the earphones and charge the storage compartment separately.
8. Avoid high ambient temperature, optimal temperature is 82-86℉.
9. When the phone or watch cannot be fully charged, try the following: Open [Settings] - [Battery Health] - [Turn off battery optimization].
10. If you encounter any other problems, please contact Brouk and Co. as soon as possible!
Available Colors: Yellow-3356, Tan-3357, White-3358, Blue-3359, Charcoal-3360, Black-3361, Fuchsia-3362, Teal-3363.
(#3356-3363)

•Dimensions:
Charging Pad Dimensions: 9.5"L x 4.25"W x 0.25"H
Case Dimensions: 10.25"L x 5.0"W x 1.25"H